Whisper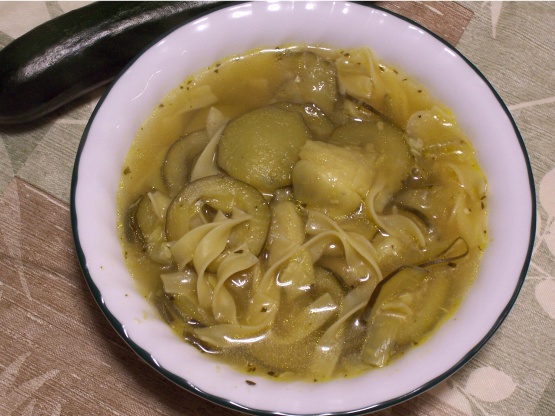 This recipe is from Everyday Italian with Giada De Laurentiis. It looks like a fantasic way to use zucchini.

This soup is delicious! This is a nice change from the carrots, onion and potato vegie soup I usually make. I was very pleasantly surprised! The second picture I took doesn't do the cheesy topping justice because I was so hungry from the smell, I couldn't wait any longer to eat it! But it does melt over the top and get that nice almost chewy topping. I followed the recipe with the exception of using sweet onions instead of leeks, as that is what I had on hand. DH, who is usually pretty quiet with his foods, said "Mmmmmmm", which says a lot! I love this recipe and will be making it often!
Heat the oil in a heavy large pot over medium heat. Add the leeks and saute until translucent, about 8 minutes. Add the garlic and saute until tender, about 2 minutes.
Stir in the zucchini and artichokes. Season the vegetables with salt and pepper. Saute until the zucchini are tender, about 10 minutes.
Add the vegetable broth. Stir in the thyme and cook for 2 minutes. Cover the pot and bring the soup to a simmer. Decrease the heat to medium-low and simmer gently until the flavors develop, stirring occasionally, about 20 minutes.
Increase the heat to medium-high. Add the noodles and cook until al dente, stirring constantly, about 5 minutes.
Ladle the soup into bowls. Sprinkle with Parmesan and serve.