Brenda.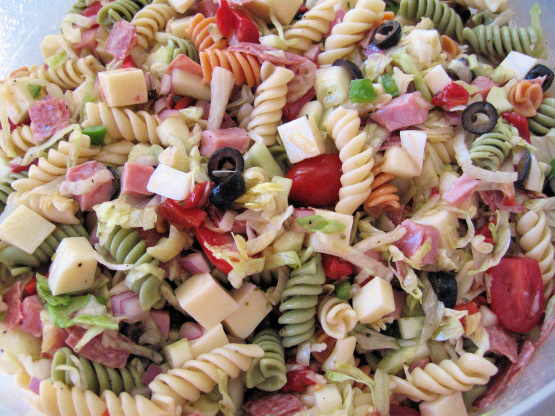 Tastes like an Italian sub.... but it's a salad! Nice for summer picnics. Best if eaten the day prepared.

I used to make a salad like this for get togethers and it was a huge hit.... so glad to find this one!
Make sure your pasta has cooled completely.
In a large bowl, toss together pasta, tomatoes, cucumber, red bell pepper, shredded lettuce, chopped onion, sliced black olives, ham, salami and provolone.
In a jar or crouet, pour all the dressing ingredients. Shake very very well.
Pour over the salad and toss to coat evenly.
Serve.
If not eating right away, give another good mix/toss before serving.
Best if eaten the same day as prepared.