Italian Crab Seafood Pasta Salad
Sally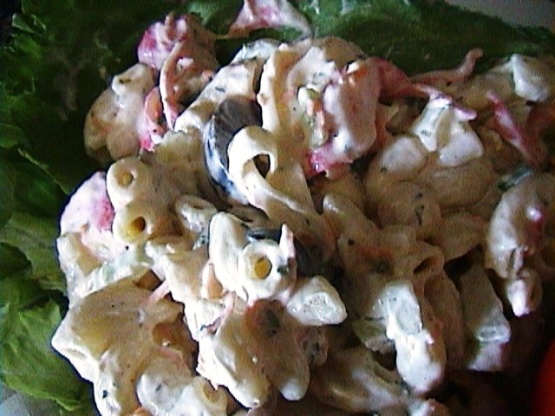 I had a very similar salad in Little Italy near the Baltimore Harbor. It was fabulous! This is the closest I have come to it. This is pretty darn good too! A wonderful summertime salad! Serve as an appetizer salad, a side salad, light lunch or for brunch. It makes a very nice presentation and will be sure to impress guests. :) P.S. Do not substitute canned crabmeat or imitation it will not taste the same!
Cook the pasta in a large pot of boiling, salted water until al dente, 10 to 12 minutes.
Rinse, drain and set aside.
Pick through crab discarding any pieces of shells.
Meanwhile, in a large bowl, combine the crab, mayonnaise, buttermilk, onions, lemon juice, onion powder, garlic powder Old bay, parsley and pepper to taste.
Add the pasta shells and mix again.
Cover and chill overnight.
Serve on lettuce leaves.