Italian Casserole (Rigatoni and Cheese With Tomato Sauce)
Parsley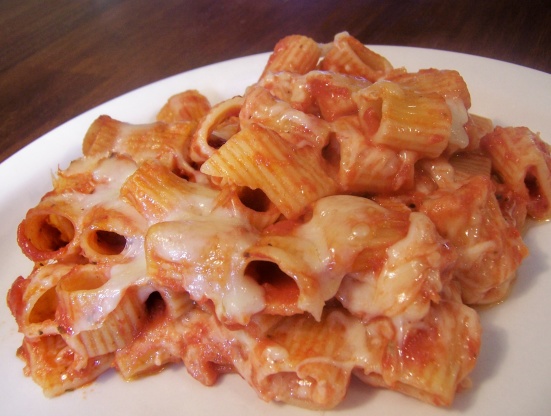 Cheap and easy and tasty.

yum - looks like I'll be giving this a go tonight.
Preheat oven to 350°F.
In a large pot of boiling salted water, cook rigatoni according to package directions until al dente; drain.
Combine tomato sauce with seasonings, and simmer, uncovered, for 10 minuntes.
Add sauce to pasta and toss to coat.
In a baking dish, arrange pasta and cheese in layers, ending with cheese.
Pour melted butter over all.
Bake, covered, for 15 minutes.
Uncover, and bake for another 15 minutes.
To freeze: Undercook pasta by a minute or two. Assemble dish as directed. Wrap with plastic wrap and then foil. Label and freeze.
To serve: Thaw in fridge. Remove plastic wrap and recover with foil. Bake as directed for 20 minutes. Then uncover and bake 15 more minutes.