Italain Grilled Cheese Sandwich (Panini)
Boomette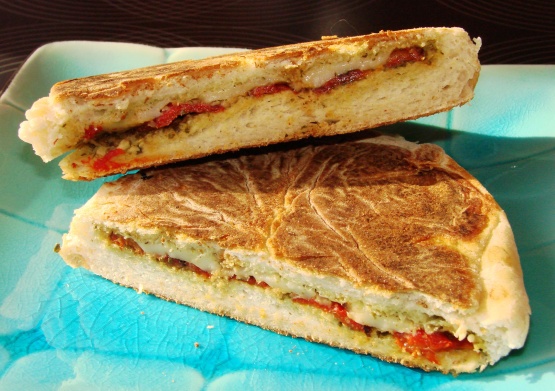 Mmmm... mozzarella! Try this grilled cheese sandwich with the Italian twist! If you haven't tried it before, pesto is one of the best condiments to use on a hot sandwich. Instead of cooking the sandwiches in a skillet, you can use your panini press just as easily. This recipe is from a Canadian cheese magazine. Enjoy!

Do I fess up or not? Ok, I'll acknowledge being a slacker after reading the other reviews. I used everything store bought: fire roasted peppers in a jar, pesto, cheeses and bread. I don't even feel at all guilty about it. The sandwich was very tasty and quite easy, lol. I don't always have all of these things on hand but when I do this will be making a return performance. Lots of good flavor from a few ingredients. :D
Slice paninis in half. Spread pesto onto each half.
Evenly distribute both cheeses and peppers on four bottom halves and top with four top halves.
Heat skillet over medium-low heat.
Cook sandwiches approximately 5 minutes on each side while applying pressure to flatten them.
Sandwich is ready when bread is browned and cheese is melted.