Irish Beef Stew With Guinness Stout
976856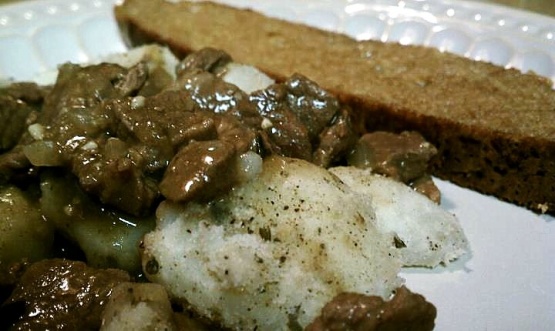 Hearty beef stew for the Irish-minded

While on my first visit to Ireland in July 1999, the birthplace of parents, my cousin and I stopped in Doolen near the Cliffs of Mohr and had this marvelous dark Irish Beef Stew cooked in Guinness Stout" at O'Connors Pub. It was absolutely delicous and the first authentic Irish meal we had and while all the food was great there was nothing that could beat the Irish Stew. When I found the recipe on this site, I immediately tried it and it is exactly like what we had in Ireland. When my cousin came to dinner and I served it, he was sure I had gotten the recipe from O'Connors Pub while we were in Ireland. It was a cinch to make, directions were very easy to follow and it practically cooks itself. It is equally as good over mashed potatoes or rice. Try it, you'll like it. The one ingredient I added was a "wee bit of blarney"
Heat a 6 quart stove top casserole or oven proof pot and add the oil and the bay leaves.
Cook the bay leaves for a moment and then add the meat. Brown the meat on both sides on high heat.
Add the onion and cook for a few minutes until it is clear.
Reduce the heat to low and add the garlic, thyme, rosemary and flour and stir until smooth.
Add the beef stock and stout; simmer, stirring until the stew thickens a bit. Add the remaining ingredients and cover.
Place the pot in the oven at 275 F: for about 2 hours, stirring a couple of times.
Check for the salt and pepper before serving.