Boomette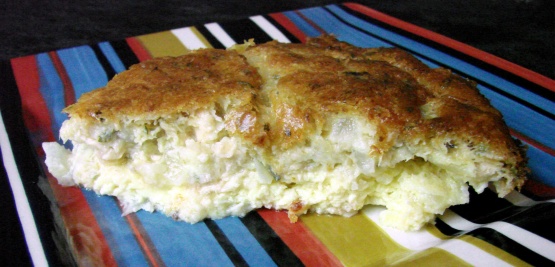 Easy salmon pie that separates in the cooking to make a base. Can be stored in freezer for two weeks.
I love salmon pie and I had to try this recipe because there is no crust. It worked very well. I let it in the oven a good 10 minutes. It's very easy to do. I used provolone cheese and dried parsley (about 1 tbs). Thanks Sueie :) Made for Healthy tag game
Place eggs, butter, flour and baking powder in processor and process until smooth.
Transfer to bowl.
Stir through milk, salmon, onion, cheese, parsley and seasonings.
Pour mixture into a greased pie plate.
Bake in moderate oven 180degC (360degF) for 1 hour or until mixture is firm and golden.