Rita1652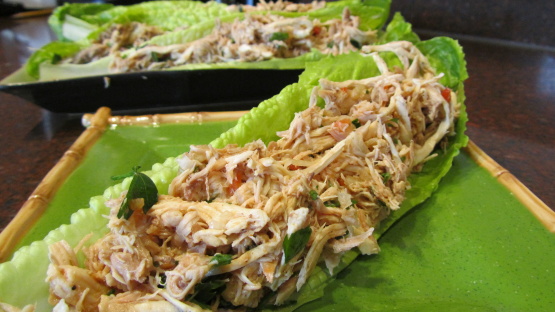 The two main ingredients in this recipe are the chicken, which must be juicy and cooked just right (the technique here for cooking the chicken is based on the Chinese method of submerging a whole bird in boiling water. This simple method produces moist, succulent chicken every single time), and the rau ram (Vietnamese Cilantro), which must be used liberally. This dish originated in Hue, the ancient imperial capital of Vietnam where ga bop is served as a snack with beer or as a side to chao ga (chicken rice soup) or with just a bowl of steamed rice!

Sounds complicated but it's very quick and easy. Oh and YUMMY! Love it. I will be making this again. I do not know what Rau Ram is so I used a LOT of mint and thai basil because that's what I had on hand. Fresh and light tasting. THANK YOU. DELICIOUS! Jan 11, 2010. April 21, 2010 - I've been making this since I found the recipe. To make it even easier, I purchase a rotissere chicken from Costco and use it instead of cooking the chicken. I find that chicken very juicy. It's also very flexible, I use any fresh herb on hand like mint, basil, or cilantro. I find they're good. Thank you.
Fill a pot with 2 quarts water and cloves garlic and bring to vigorous boil. Add the chicken and bring it back to another boil. Reduce the heat and simmer 10 minutes. Turn off the heat and let the chicken sit in the pot, covered, for 20 minutes. Remove the chicken and set it aside to cool.
Remove and discard the skin and bones from the chicken. Hand shred the meat into ¼-inch thick strips and transfer to a mixing bowl.
Add the black pepper, salt and sugar and gently massage into the chicken. Add the lime juice, onions, chilies, rau ram and oil and toss gently. To serve, line a serving plate with the butter lettuce and place the chicken on top.