Hot Broccoli Dip (Crock Pot or Microwave)
AmyMCGS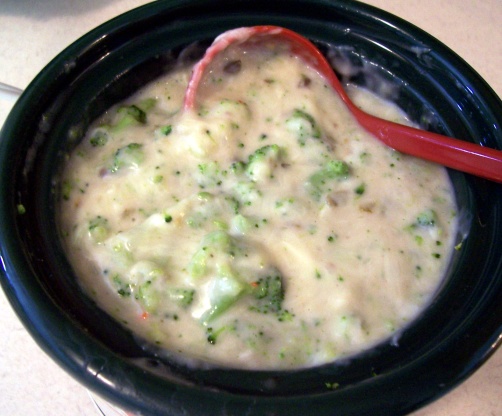 I love broccoli and pepper jack cheese... and this dip combines the two! This is a very quick and easy dip for parties. We like it with Frito's Scoops or tortilla chips. Leftovers are wonderful served over baked potatoes for lunch the next day. NOTE AFTER FIRST REVIEW: I have always kept this hot for serving in my mini-crockpot and haven't had trouble with it getting too thick.

This was good, a little bland and too thick. I added half and half. I think with some tweeking it could be five stars.
Melt the cheese in the microwave in a large bowl.
Add undiluted soup and mix well.
Cook broccoli, drain, and add to the mixture, stirring well.
Serve warm with Frito's Scoops, crackers, or tortilla chips.
Keeps well in a crock pot on low setting (stir periodically) or just pop it back in the microwave at serving time.
NOTE 9/11/07: I have been making this for years, but recently ran across the original recipe in an old cookbook. It turns out that the original had two cans of soup, which obviously would make a thinner dip. I'll probably still make it with one can, but if it seems thick, you might want to try two cans! :).