Hot-As-You-Like Asian Chicken Wings
teresas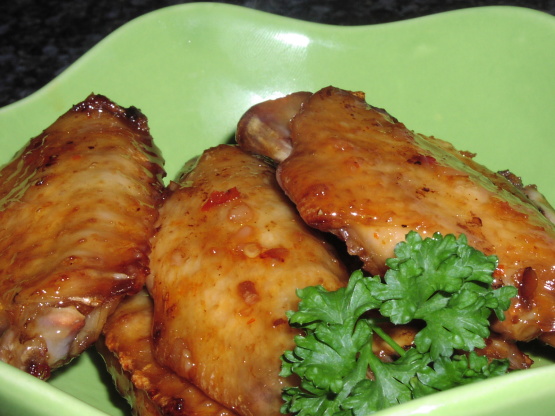 They are already spicy, adding more hot chili oil will increase it to as much heat as you like. Can be doubled or quadrupled (don't just double the hot oil though :) taste as you go). Prep time does not include marinating time. From Jackie Shen.

I marinated the chicken wings for 12 hrs. I doubled the recipe to freeze some for later. I baked for 30 mins. at 400, then added the sauce and did as the directions suggested, and baked 5 more mins. but they were not done, so I baked for another 15 mins. until golden. These taste a lot like my Thai chicken wings recipe. I didn't add the hot chili oil, because they were plenty hot with the hot peppers from the chili sauce. I enjoyed these wings and will definately be making them again. Thank you Marra! Linda Made for Photo Swap Contest
Wings:.
Remove wing tips from chicken wings and save for stock. Cut wings in half at the elbow joint, creating two pieces per wing.
Place wings, mint, gingerroot, garlic, 1 tablespoon of soy sauce and vegetable oil in a self-sealing plastic bag, and mix evenly to coat wings. Squeeze out air and seal bag, Let marinate, refrigerated, for 2 hours or overnight.
Preheat oven to 400 degrees F. Bake wings on a rack in a shallow baking pan until completely cooked, 30 minutes.
Sauce:.
Put vinegar, sweet chili sauce, sugar and the 2 teaspoons of soy sauce in a small, 1 quart saucepan. Bring to a boil over high heat, stirring constantly. Reduce heat and continue to simmer briskly until sauce is reduced to 1/3 cup. Remove from heat. Reserve. At this point you may whisk in hot chili oil to taste, adding as you go to your favorite heat.
Remove cooked wings from oven. Using tongs, place in a medium bowl. Add all the reserved sauce and toss repeatedly with rubber spatulas to coat wings.
place wings back on baking rack. Return to oven. Let bake until glaze sets but does not burn, about 5 minutes.
Remove from oven. Serve with plenty of napkins and cold beer.