Honey Whole Wheat Oatmeal Cookies
lynnebo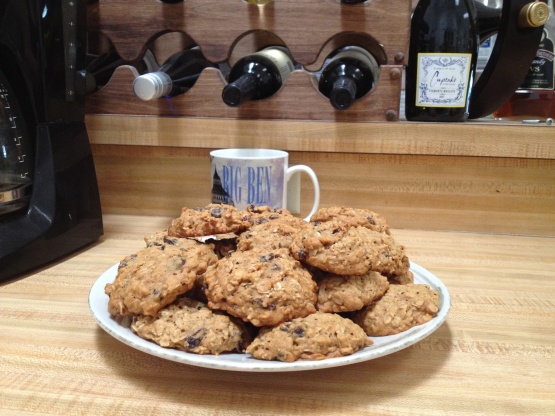 These cookies use honey instead of white granulated sugar. Also, 100% whole wheat flour used instead of all purpose flour. Tempature is lowered on purpose beacause honey burns at higher tempatures. This is suppose to be a healthier alternative to cookies made with white sugar.

This is a wonderful recipe that we will make again and again. We usually do not have sugar or white flour in the house, honey and whole wheat we always have. The final cookie does spread some so give them room when putting them on pans. They almost remind me of a muffin top when just cool enough to eat, though as they cool they do crispt up a little.
Mix all ingredients until well combined- except oats, raisins and nuts.
Mix in Oats, raisins, and nuts. Mix well.
Drop onto lightly greased baking sheet using ice cream scoop.
Bake at 325 degrees for 18-20 minutes.