-Sylvie-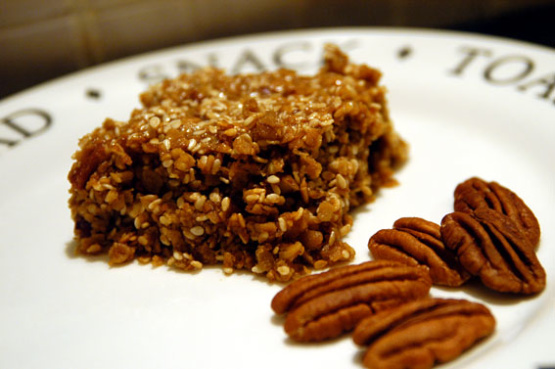 This is high in fibre. I found the recipe in a Supermarket magazine and posted it here for future use and safekeeping. Update: Sharon123 kindly chose to make these for the Photo Swap, but she had problems with them falling apart (see her review). I have since tried them myself and increased the amount of butter (the original called for 3 1/2 oz), which seems to have solved the problem. Make sure you let them cool completely before trying to lift them out of the pan or pick them up. They will set and stick once cold. I actually made mine in a 9inch springform, which gave me the advantage that I could get right at them after taking the outer ring of.
Preheat oven to 180°C/350°F/Gas 4.
Grease a shallow square 8inch cake tin and line with baking paper.
In a small pan, melt the butter, honey and sugar together, over low heat, until sugar is dissolved.
Remove from heat and add the other ingreadients, mix together.
Pour into cake tin and level the top with the back of a metal spoon.
Bake for 30 minutes.
Remove from oven and cut into squares whilst still warm.
Remove from tin once completely cooled, this is important, if you lift them before they are completly cooled they will crumble.