Suzie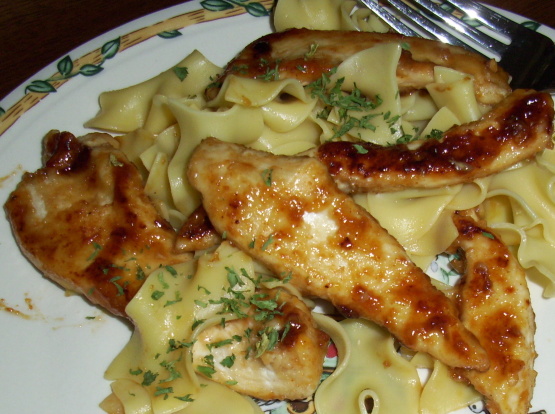 Easy and fabulous!! Tastes very much like sweet and sour chicken from a good Chinese place. This is from a lady in Iowa and was in the Cooking for 2 magazine. It will be in our regular dinner rotation.

I like the concept but the recipe needs some work for us. It was very sweet and didn't have enough other flavor. I think next time I would skip the brown sugar, add lime zest, add more heat and add some garlic. Maybe something else like a rum? I don't know. I really like the idea and will try and find a recipe that we like more. My very picky 5 year old did love this though so thank you.
In a large resealable plastic bag, combine flour and cayenne. Add chicken, a few strips at a time, and shake to coat.
In a skillet, brown chicken in butter on all sides.
Combine the lime juice, honey, brown sugar and Worcestershire sauce; pour over chicken. Cook for 1-2 minutes or until juices run clear and sauce is thickened.