Honey Lime Cajun Shrimp Stir Fry
MsSally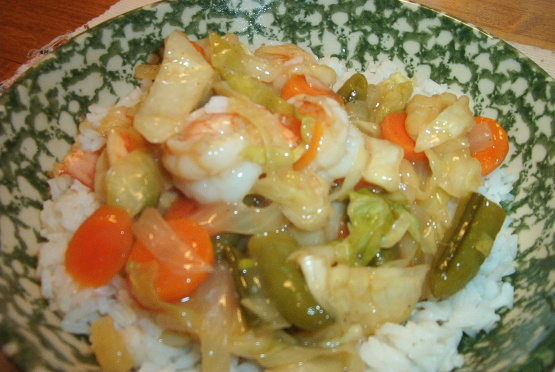 This is a recipe I developed myself. The first stir fry that 2 out of 3 of my kids will eat! I took the basic marinade from Spicy Shrimp (Prawn) Skewers and made up my own stir fry. The vegetables are what I had on hand, so feel free to adjust the veggies to what you like to use. Time includes only 1 hour of marinading.
Mix the marinade ingredients together in a bowl.
Place the shrimp in a sealable container and pour half the marinade over them.
Refrigerate for 1 hour to overnight.
Take the reserved marinade and pour into a wok, heated on high.
Add vegetables to wok and cook, stirring occasionally, for 8-10 minutes, until vegetables are tender.
Push the vegetables to the side and add the shrimp (after draining out the marinade).
Cook, stirring occasionally, until shrimp are pink, about 3 minutes or so.
Mix the cornstarch and 1/4 cup of water and add to the wok to thicken the sauce.
Cook for about 1 minute.
Serve over cooked brown rice. Yum!