Honey Glazed Hoisin Pork Chops
PaulaG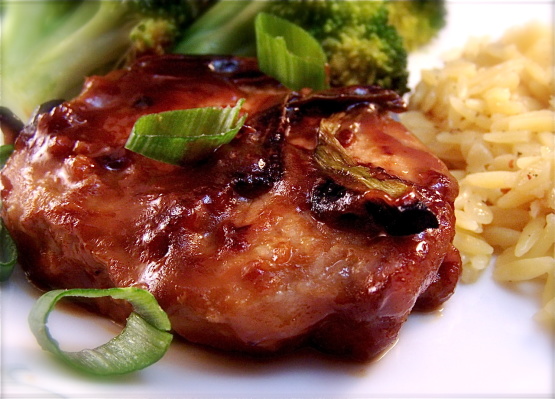 You can marinade the chops in the sauce for a couple of hours before cooking them.

O dear God these were delicious!!!!!!! Ive never used oyster sauce or hoisen and I was a tiny bit nervous. But Im telling you my husband literally drank the juice w a spoon! Incredible. I wish we had more left overs. I want it again tomorrow night! This will be the go to dinner when I have company. AND SO EASY! LOVE LOVE LOVE
Set oven to 400 degrees (oven rack to second-lowest position).
Grease a 15 x 10-inch shallow baking pan.
Cut the green onions into about 2-inch pieces.
Whisk all the remaining ingredients together in a bowl (except pork).
Add in the green onions and pork chops; turn to coat with sauce.
Arrange the pork chops in one layer in the baking sheet.
Spoon the remaining sauce with the green onions over the pork chops.
Season with a small amount of salt and pepper if desired.
Cook/roast in oven for about 20 minutes.
Remove and turn on broiler.
Broil the chops in the same pan under broiler (5-6-inches from heat) until top is slight caramelized about 3-5 minutes.
Serve the chops with the pan juices.