Honey Barbecue Chicken Wings
Swirling F.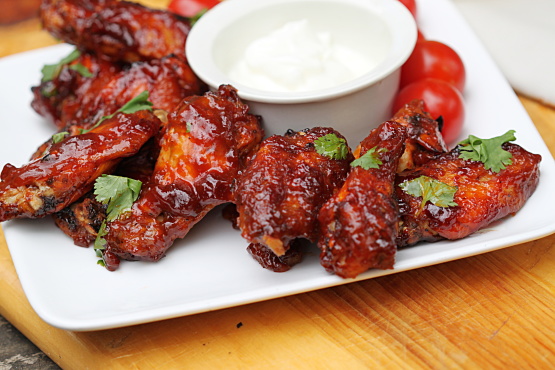 This is my own recipe. I love the way they get so gooey and sticky...goes really well with some homemade mac and cheese, some bbq baked beans, and a biscuit.....mmmmm....yum!
I like to cook for my mom and we loved these I use the recipe on ribs and I use the sauce on snack trays with chicken nuggets when playing videogames. I add pineapple juice and occasionally passion fruit, everytime its amazing!
Wash, dry, and season the wings with the salt, garlic, pepper, cayenne, sugar, and paprika. Preheat the oven to 375.
Spray a cookie sheet with a generous spray of cooking spray.
Place the wings in a single layer on the cookie sheet, and place in the oven.
Cook for 35-40 minutes, depending on the size of the wings, turning once.
While they are baking, make the sauce by slowly simmering the sauce ingredients over the lowest heat.
When the wings are done baking, carefully dip them in the sauce, and place them back in the oven for another 5 minutes, or until the sauce is bubbling.
ENJOY!And remember to save some for everyone else!