Honey and Five Spiced Lamb With Stir Fry Vegetables
ImPat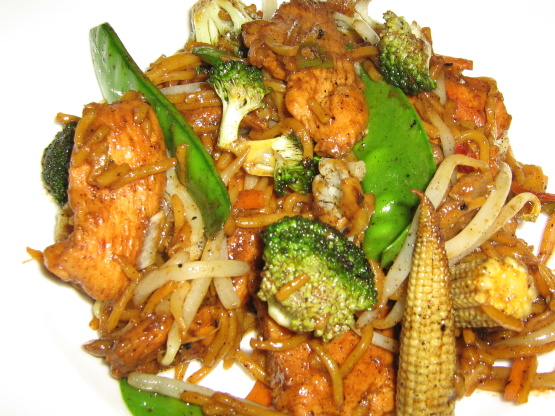 I just make this with vegetables as my hubby and I are trying not to eat to many carbs in the evening, at the moment, so I have limited starchy carbs to only 1-2 days a week. I do usually make this with noodles thrown in, so feel free to add them if you want, if you do, I would lower amounts of meat and vegetables or it will be too much for 4.
Combine five-spice, sauce, honey, vinegar and garlic in a bowl.
Combine lamb with 1-11/2 tablespoons of the five-spice mixture in a bowl.
Heat oil in a wok; stir-fry lamb in batches, until browned. Remove and set to one side.
Add onion, ginger and chili and stir-fry until onion softens, return lamb with remaining five-spice mixture.
Add broccoli stir-fry 3 Min's, add snow peas and sprouts and stir-fry until veg are just tender. Stir in coriander.
Note: Cooking time will be longer if not using a wok.