Hoisin Chicken Rice Bowls
lazyme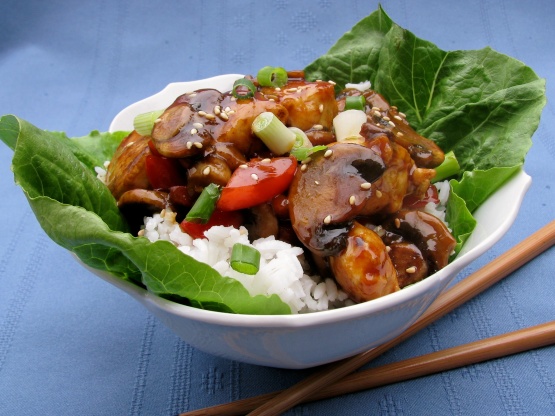 From Mykitchencafe: "This is very healthy and after all the chopping, it comes together in a snap. Plus, I loved the versatility of serving it with romaine lettuce and rice, or just lettuce...or just rice. You get the picture. You can serve it according to your tastes. It was absolutely delicious with both the hearty green romaine lettuce and the warm, tender rice. The chicken, mushroom, pepper mixture is out of this world with flavor and texture. Hoisin sauce is one of my favorite Asian ingredient flavors and this meal was a slam dunk, in my book."
Heat oil over medium high heat in a large saute pan.
Add red pepper and mushrooms and saute for 5 - 6 minutes until tender.
Add garlic and saute an additional minute.
Add chicken to pan and cook for 6 - 8 minutes or until cooked through.
Stir chicken and red pepper mixture occasionally while it cooks.
Add water chestnuts, teriyaki sauce and hoisin sauce and stir to coat the chicken and vegetables.
Continue cooking until heated through.
To serve, line a single serving size bowl with romaine leaves. Top with a large scoop of rice, some of the hoisin chicken, and a sprinkle of the sesame seeds and scallions.
Alternately, you can serve the hoisin chicken mixture wrapped in lettuce leaves or omit the lettuce leaves completely and serve the chicken over rice.