fperrin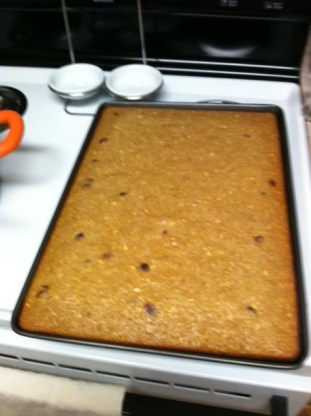 Recipe from http://www.cooksrecipes.com/appetizer/high-protein-bars-recipe.html. No nutritional information available there, though, so I wanted to run it through the recipezaar calculator.

First of all someone that is making this is probably is healthy....corn syrup would not be something I would even think of adding.
Preheat oven to 350*F (175*C).
Grease a jelly-roll baking pan; set aside.
Beat eggs in large mixing bowl.
Add oil, honey, corn syrup and oranges.
mixing well.
Blend together wheat flour, soy flour, dry milk, spices and remaining dry ingredients; mixing well.
Pour into prepared baking pan and bake for 40.
minutes.
When cool, cut into bars and wrap in plastic wrap or foil and store in the freezer.
Excellent high energy food for backpacking or a nutritious snack.
Variations:.
You can use 2 cups honey and omit the corn syrup.
For variation, add.
1 1/2 cups raisins or chocolate chips if desired.