Hidden Chocolate Mint Cookies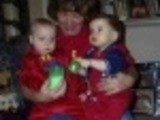 These cookies contain a surprise of a chocolate mint inside. Fun to make and eat. A wonderful after-dinner cookie.
Directions
Mix the shortening, sugars and egg.
Stir in water and vanilla.
Stir together the dry ingredients then mix into the batter.
Chill the dough.
Enclose each wafer into about 1 tablespoon of dough.
Place each on a greased baking sheet and bake in a 400 degree oven for 8-10 minutes, or until no imprint remains when touched lightly.
Most Helpful
I make these every year for Christmas and they are always eaten and enjoyed!
Making these this weekend, glad I found it. I made these once from an old Betty Crocker cookie book of my moms, and I know they are fantastic. Really looking forware to serving these. They really are a good after dinner treat.
OMG I thought I would never find this recipe again. My nanny had given this to me years ago and I had misplaced this recipe. This has to be the greatest cookie on earth. My only suggestion is to MAKE sure you seal your candy in there good or you can have a leaky mess. If you dont like andes candies you could also us little york peppermint patties.