Herbed Cheese Batter Bread
Nimz1466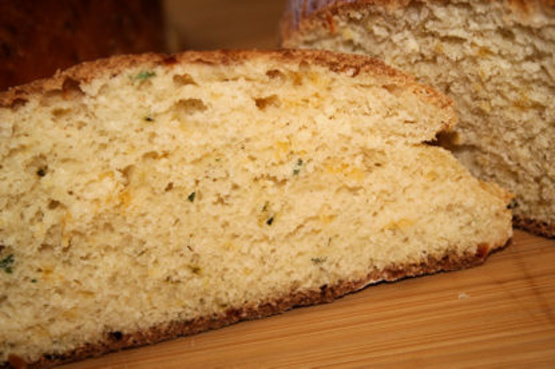 My son makes this & it's wonderful! Since he's a big fan of the food network, I'm guessing he grabbed the basic recipe there & tweaked it to suit himself. No kneading required (my favorite kind of bread making). This makes 2 loaves - one for now & one to freeze for later. Prep time includes rising time.
I would give this bread more than 5 stars if I could. I am gluten free and have not had good bread since I became so. I made this bread just as the recipe states except I used Maninis gluten free flour mix. The recipe calls for two pans, I put all of the dough into one pan, because gluten free does not rise as much. I ended up with a beautiful big loaf of absolutely delicious bread cooked without using rice, which is the awful staple of most gluten free items. Thanks so much for this recipe!
Lightly butter (2) 8 X 4 X 2-inch loaf pans.
Heat butter over medium heat. Add the buttermilk and water; heat till warm to touch (105-115ºF)
Pour into a large bowl & sprinkle the yeast on top. Let stand for 5 minutes.
Whisk to dissolve yeast then whisk in 3 eggs & the hot sauce.
Sift together flour, sugar, baking powder, baking soda & salt.
Gradually stir into the liquid mixture to make a thick batter.
Stir in Parmesan cheese, 3/4 cup shredded cheddar, garlic & herbs.
Pour batter into prepared pans, spreading evenly.
Cover loosely with plastic wrap & let stand in a warm place until doubled in volume, about 45 minutes.
Preheat oven to 375ºF & place rack in the center.
Beat the remaining egg with the 1 tablespoon water & brush tops of loaves.
Bake for 25 minutes. Sprinkle with remaining 1/4 cup cheddar cheese & bake till golden brown, 10-15 minutes.
Cool in pans, on rack, for 10 minutes. Turn on on rack and cool completely.
* Can be made up to 2 days in advance, wrapped tightly & stored at room temperature. Herbs can be varied to suit your taste.