PaulaG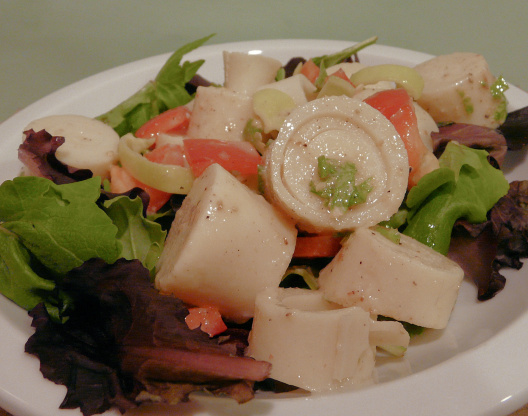 A salad from Costa Rica, I found this recipe while search for recipes that use some of the odd ingredients that have collected in my pantry. The result is a light crisp salad which is refreshing and not at all heavy. Hearts of palm taste a bit like artichoke hearts but have a touch more crunch like a water chestnut.

Thanks for sharing! My husband and I married in Costa Rica, and he was a huge fan of the hearts of palm dishes when we were there. For our anniversary this year, I made this to complement to our usual gallo pinto and shrimp tacos. It was a huge hit! I will admit that I like the dressing as is, but my husband - who is admittedly not a big fan of vinaigrettes - preferred it slightly milder with an extra tablespoon of broth. We will keep using this recipe!
Drain the hearts of palm, cut them into half inch pieces, and put them into a large bowl. Stir in the chopped red and yellow pepper along with the chopped parsley.
To prepare the dressing, whisk together the lemon juice, mustard, chicken or vegetable broth, and olive oil in a small bowl.
Drizzle the dressing over the hearts of palm mixture and toss gently.
Season to taste with salt (optional) and pepper.
For best results, let the ingredients sit on the counter for 15-30 minutes before serving. Line a serving bowl with lettuce leaves, spoon the salad on top and serve.