Healthy Vegetable and Cheese Strata
LizAnn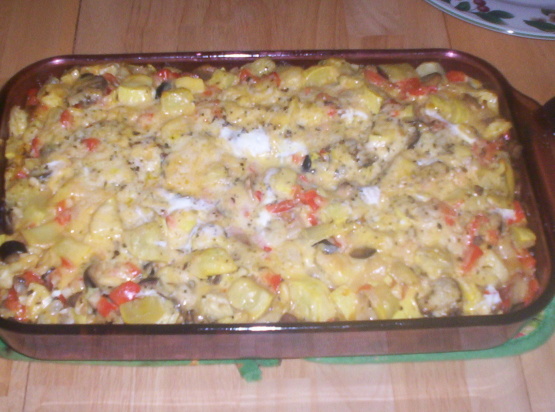 Warm, filling, and healthy! The cooking time includes 8 hours for chilling before cooking.

Top Review by LizAnn
I have never made a strata before and this was a pretty nice introduction. I wasn't sure how long to cook it or what the texture should be like. I cooked it about 70 minutes and it was soft and somewhat mushy. But the flavor was pretty good. Thanks for sharing! Fall PAC 2207
heat oil in a nonstick skillet over medium-high heat. Add zucchini, mushrooms, bell pepper, onion, and garlic, and saute vegetable mixture 6 minutes or until tender. Remove from heat and stir in artichoke hearts. Set aside.
Arrange italian bread cubes in a 13 x 9 inch baking dish coated with cooking spray. Spoon zucchini mixture evenly over cubes, and sprinkle with cheeses.
Combine egg substitute and remaining ingredients (except oregano sprigs) in a large bowl; stir with whisk. Pour egg mixture over zucchini mixture. Cover with foil; chill in refrigerator for 8 hours.
Preheat oven to 325.
Bake strata, covered, until bubbly. Garnish with oregano sprigs if desired.