Healthy Pumpkin Banana Muffins
Bayhill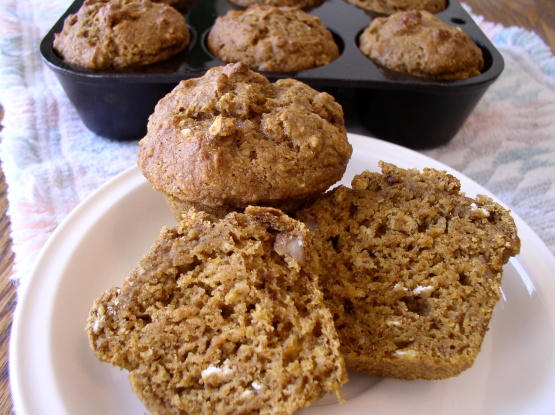 Great-tasting healthy muffins with pumpkin, applesauce, and banana. Freeze well for a quick breakfast or snack!

These muffins are delightfully spicy. I made a couple of changes. I used buckwehat flour instead of flour, fiberex (apple fiber) instead of oat bran, honey instead of sugar. I also added about a tablespoon of oil because it's easier to get the honey out of the measuring cup that way. They taste a bit like soda, so I think I will reduce the amount of baking powder or baking soda next time.
Preheat oven to 350 degrees F.
Grease or line muffin tins with paper liners.
Combine flours, bran, oats, baking powder, spices, baking soda and salt in a medium bowl.
Using whisk or spoon, stir until well mixed.
Combine remaining ingredients (except nuts) in a large mixing bowl; beat until smooth.
Gradually beat in flour mixture. Once mixtures are combined, stir in walnuts.
Spoon into prepared pans or tins (fill cups until just about full).
Bake for 25 to 30 minutes, until toothpick inserted in the middle of the muffin comes out clean.
Remove muffins from pan and cool on wire rack as soon as they come out of the oven.