diner524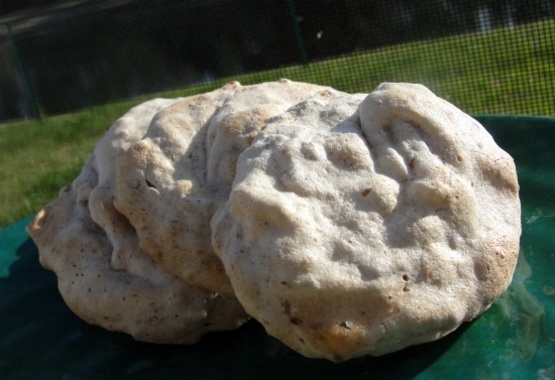 These traditional German cookies are very easy to make and taste delicious. They are also rather light for a cookie, so you can enjoy a few more. ;) If you feel like it, try out other nuts in place of hazelnuts or maybe grated coconut.
I have never made macaroons or really eaten a true macaroon, so this was quite fun to make and eat. I am not sure if I made them correctly as I haven't seen a photo of one either, but I sure enjoyed the sweet nutty flavor of these cookies. I did sub pecans for the hazel nuts as it was what I had on hand and made 1/2 of the recipe. For those in the US, it is 2 egg whites and 1/2 cup sugar and 3 1/2 ounces nuts for the amounts stated in recipe. Thanks for sharing the recipe. Made for Newest Tag Game.
100

g sugar

100

g hazelnuts, ground (or other ground nuts or desiccated coconut)

2

egg whites

1

pinch salt
In a tall bowl beat egg whites with the pinch of salt until nearly stiff (soft peaks).
Add the sugar in a steady stream while continuing to beat. Beat until thick and glossy.
Fold in the ground nuts using a rubber spatula or a tabelspoon.
Drop macaroons by tbs onto a paper-lined cookie sheet leaving some space in between as they will spread.
Bake in the preheated oven at 150°C/300°F for about 20 minutes or until set, but still softish in the centre.
Leave on the cookie sheet for 5 minutes, then transfer to a wire rack to cool completely.
Enjoy! :).
Note: These cookies keep some 2-3 weeks in cookie tins, but they will harden over time and then turn soft again.