Nimz1466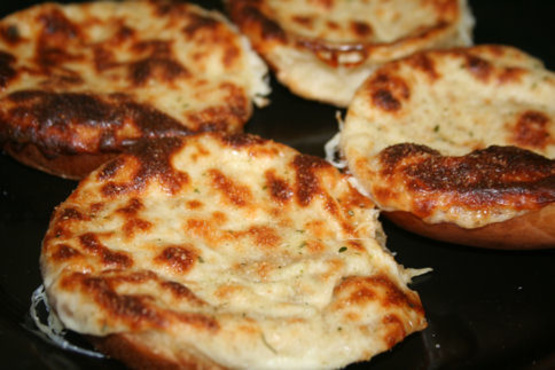 This recipe is from Cooking with Paula Deen magazine Nov/Dec 2009. It is an accompaniment to Bacon Cheeseburger Soup Bacon Cheeseburger Soup ( Paula Deen ) I posted, also by Paula Deen. These delicious cheese toasts have a nice zip with the mustard and worcestershire sauce along with a hearty helping of cheese. They are perfect dunkers for soup especially the soup above as you feel like with the two it is a burger on a bun. Easy to make and fast to make. Fun looking and unique. Enjoy! ChefDLH

This was excellent Hubby and I could not leave them alone Thanks for great recipe
Preheat broiler.
Line a baking sheet with parchment paper.
In a small bowl, combine melted butter,mustard,and Worchestershire sauce.
Spread mixture evenly over cut sides of buns.
Place, cut sides up on the prepared baking sheet
top each evenly with cheese.
Sprinkle each evenly with garlic salt with parsley.
Broil, 5 inches from heat, for 2 to 3 minutes or until cheese is melted and buns are golden brown.
Serve immediately.