Ham.... Ham in a Cherry, Cola and Pineapple Glaze
Timothy H.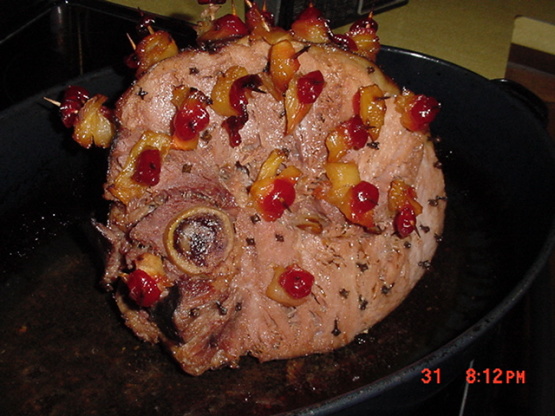 I was thinking of a different way of cooking a ham while at work, you know no peak! So I looked in the frig and cupboard to see what I could come up with as far as a glaze that could be used in a crock pot. I cooked it on a warm temperature for 4-5 hours to release all the water in the ham. Then added the glaze.
Wash the ham well under cold water to remove all excess salt.
In a crock pot, put cut side of ham face down. Insert all the cloves into the ham.
Cut the cherries and pineapple in half and insert a tooth pick to keep the cherries and pineapple in place on the ham. Turn on warm for 4 hours. This will release the water in the ham. After 4 hours drain the water and discard.
In a medium bowl add cherry juice, cola, mustard, apple juice, brown sugar and Jalepeno ground pepper. Mix well and put into frig to chill. Pour the sauce over the ham, spread around with a spoon or brush. Then turn temp to low for 4 hours.
NOTE: My crock pot is very hot, some of you might need to turn it up to high to maintain the temperature Baste every 30-45 minutes. Serve hot.