tkcatlin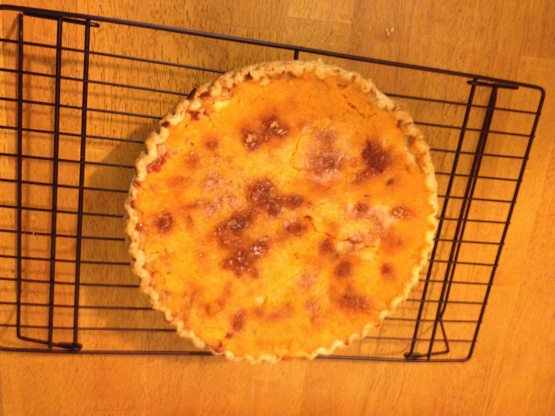 A wonderfull combination of savory and sweet flavors. Serve with asparagus topped with lemon, butter and parmesan cheese or a green salad.

This is a great recipe. I know this sounds odd, but we made it for brunch and had it (small portions) with some fresh fruit and scrambled eggs. It is very filling, but has a relatively modest amount of added fat or sugar (although it still has that salty-sweet thing going with the sweet potatoes and ham). I didn't have Tabasco sauce, but I did have some Busha Browne's Pepper Sherry that I substituted. I need to remember to press the ham mixture more firmly into the pie plate, it did fall apart quite a bit during serving, but I think it was my error. Next time I roast sweet potatoes, I'm making extra so that we can have this delicious pie! Thank you for posting this, it was a huge hit.
Preheat oven to 350 F degrees.
Combine ham, egg, milk, bread crumbs,onion and worcestershire sauce, blend thoroughly.
Pat ham mixture into a 9" pie dish.
Combine sweet potatoes with with melted butter mixed with hot sauce and spread over ham mixture.
Sprinkle with brown sugar, dot with butter and bake 30 mins or until bubbly.