Ham and cheese crescent snacks
Mika G.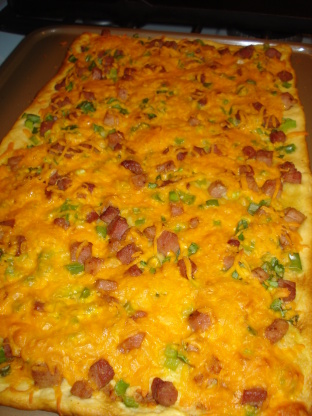 This is a great snack! it's great to use for left overs.

This was really good. We had this on our "snack night" with some other stuff. My kids really liked it. I am going to have it again and try some different veggie combinations. I would have never thought of putting mustard and butter together but is works! Thanks!
unroll crescent dough onto a ungreased baking sheet, roll dough to a 13x9 rectangle, crimp edges of dough.
In a small bowl, combine the butter and mustard, stir til smooth.
spread evenly over dough, top with ham, onion, and peppers.
sprinkle with cheese.
Bake at 375 for 18-20 minutes.