Halibut With Garlic Mayonnaise-Parmesan Topping
Ms B.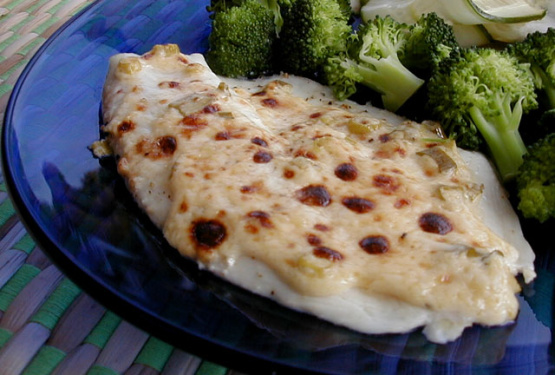 I adopted this recipe, I love, I make it often and even use it when I plank, it actually goes well with ANY fish I try it on, Original Intro: quick and easy meal.

This halibut recipe is really incredible! I haven't read through the rest of the reviews to know if anyone else has used lime to replace the lemon in this recipe. I did not have any lemon on hand but had lots of limes. I used the lime to replace all the lemon in this recipe. Not IF, but WHEN I make this again, I will definitely use lime again! It adds a new dimension of flavor! It is really, really very tasty. I knew the lime would work well because lime is served with fish tacos and I love it ~ so I didn't even give the substitution a second thought. This is great, Dawn!! Thanks so much for sharing this wonderful recipe!!
To prepare the topping: Combine mayonnaise, lemon juice, garlic, mustard, Parmesan, green onion and Tabasco.
To prepare the halibut: Place fish on a broiling pan.
Sprinkle with lemon juice, salt and pepper.
Bake in a preheated 450-degree oven 12 minutes per inch of thickness, or until fish tests done.
Remove fish from oven and place a rack close to the broiling element.
Turn the oven to broil.
Spread the top of the fish with garlic topping.
Broil about 1 minute, or until golden.