Gypsy Schnitzel (Zigeunerschnitzel)
Bergy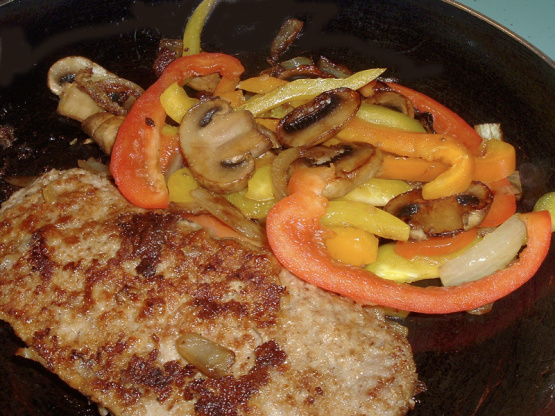 Gooood! Need I say more. If you are opposed to pork, you can also make this with chicken, turkey breast,veal. Easy to.
This was an awesome recipe. I used beef steaks instead of pork because my husband found the recipe first and told me to buy beef but, it was amazing. The kids want it again.
4

boneless pork steaks, wipe with a little lemon on each side

1

egg, add a little water approx. 1 tblsp. and slightly beat

2

cups breadcrumbs, unseasoned

2

tablespoons oil or 2 tablespoons shortening

1

medium onion, slice thinly

1

red bell pepper, slice thinly

4 -5

large mushrooms, sliced then halved if too large
1 1⁄2 cups water, plus

1

tablespoon cornstarch
salt and pepper
chili powder or sometimes i use cajun seasoning
Sprinkle the pork the salt and pepper then dip into the egg mixture.
Then from there it goes into the bread crumbs.
Heat the oil and fry until both sides are brown.
Don't fry too long you don't want to toughen the steaks.
Remove the steaks and add the onion, and peppers to the drippings and saute a few min.
Add the mushrooms, water, bouillon and you will bring this mixture to a boil.
In a small dish combine your cornstarch and about a tblsp.
of cold water and make a paste.
Add this to the pan and stir to make a sauce.
Stir constantly until your sauce is thickened.
Season with Salt, Pepper, Paprika, and Chili Powder, or Cajun Seasoning to taste.
Add your steaks, simmer for about 5-10 min and serve with a nice rice mixture, potatoes, spaetzle or even gnocchi.
If you want in that five min.
cooking you could sneak a little white wine in there to give it a nice flavor-- if it's a holiday!