Crock Pot Turkey Breast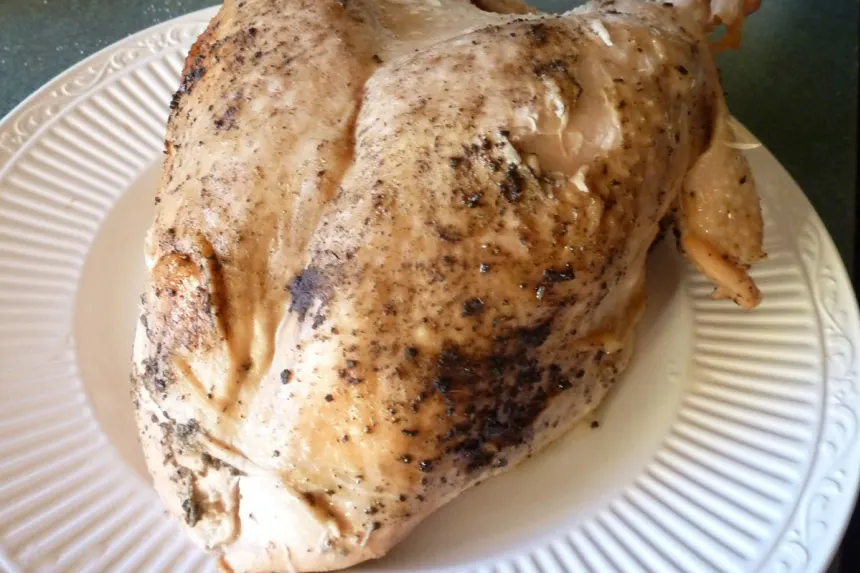 photo by EppiRN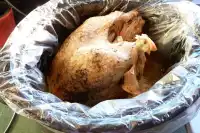 Ready In:

9hrs 10mins

Ingredients:

5
directions
Rinse the turkey and pat it dry with paper towels.
Rub turkey all over with the oil.
Carefully pull back skin over breast and rub with seasonings.
Place breast, meaty side up into a 5 quart slow cooker.
Peel the onion, cut it into quarters and place around the edges of the pot.
Peel the garlic cloves and place around the sides of the cooker (maybe rub some minced under the skin).
Cook for 9 hours if frozen or 7 ½ hours if not frozen on low or to 170 degree internal temperature.
Let bird rest 10 minutes before carving.
Discard vegetables.
Questions & Replies

you don't need to use water or chicken broth with this recipe? and what is the bag used under the turkey in the picture above? is that necessary or just easier for clean up?? if not using the bag, do you need to spray the bottom of the crock pot? how do you get the skin crispy like in the oven? TIA! been trying new recipes this year and eager to give this one a try.

 
Reviews
I just couldn't wait to submit this review, and I'd give you 10* if I could. This was one highly successful experiment! I was really intrigued that you included directions for a frozen breast, because I always seem to have one hanging out in the freezer (I forget to thaw it of course). I plunged gamely ahead. My crockpot is too small of course, but no matter. I oiled the outside, and also salted & peppered the outside (instead of under the skin, which was, of course, frozen to the breast). Added the garlic & onion. Discovered that the lid wouldn't go on, so I wrapped the top in foil, tucking it down between the crock & the outside, and perched the lid on top. I let it go about 10 hours on low, because I was a bit lazy about making the fixings. The result? A beautifully cooked turkey, moist, tender, and infused with a lovely hint of onion & garlic. Bonus - I got a fair amount of yummy stock. Thank you so, so much for this recipe. Now I won't be afraid to buy those sale turkey breasts any longer. A million thank yous!!!!

 

I made this for New Year's eve. Turkey breast was partially frozen, and a bit over 7 pounds...so I had to trim off some meaty parts here and there, and start with the aluminum foil treatment mentioned previously. After about 3 hours cooking, the foil came off and the turkey fit in the pot nicely. --- The final result was excellent! Lovely aroma, great, juicy turkey! My husband even suggested we crockpot our turkey for Thanksgiving next year. I'm seriously considering it...

 

This turned out perfect for shredding! I also got a wonderful broth that made the BEST gravy. I did end up removing it from the pan and putting it under the broiler to brown up the skin ~but of course if I was just using it for hotdishes or whatever, that wouldn't have been necessary. Very moist and smelled great. Thanks!

 
Tweaks
This was a simple, quick recipe that made a moist turkey breast for our dinner on a busy day. I used my 1.5L crock pot to cook a boneless turkey breast and was surprised how flavourful it was from just S&P, onion and garlic. I did use butter instead of the oil, but that was the only change. Thanks for a tasty recipe for busy people.