ARM PCV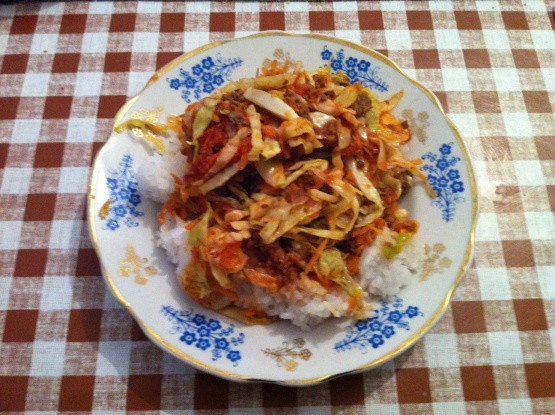 This dish is easy to prepare, even kids like it. It's a family favourite since a long time.My aunt in Germany created it a long time ago.

This was wunderbar! I went heavy on the onions and pepper and served it over buttery mashed potatoes. My Mom had the idea of potatoes on bottom and sharp cheese melted over top, like an inside out shepherds pie! You can add just about any spice to this to jazz it up (try peppers and garlic or curry powder, yumm, i've already created 5 diff dinners from 1 recipe). also, I didn't cook it all the way through. I left it tender but firm and picked a bright green cabbage just so it would look pretty. This also goes well with warm crusty bread.
Wash cabbage, core and cut in fine stripes.
Dice onions and fry in hot oil until see through.
Add ground beef and fry until cooked through.
Season to taste.
Add cabbage, bay leaf, carrots and some more seasoning.
Let simmer until cabbage is cooked, remove bay leaf.
Season again if necessary.
Serve with crusty rolls, rye bread, rice or potatoes.