Redsie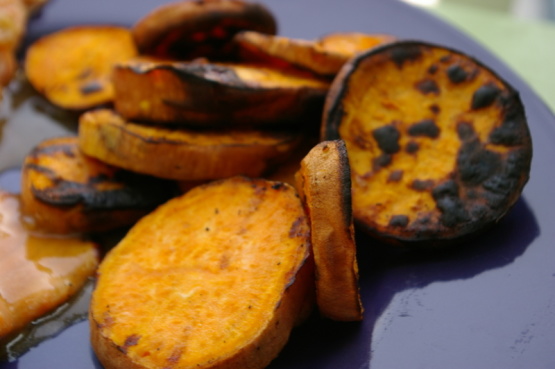 Sweet potatoes... tuber of the Gods! This our favorite way to eat them off of the grill.

This was the perfect marinade! I used 1/4 inch slices on an electric counter-top grill. After I grilled the sweet potatoes, I soaked some eggplant slices in the remaining marinade and grilled them, too! Thanks for sharing!
Blanch sweet potatoes in boiling water for 2 minutes, then drain and cool with cold water.
Mix marinade ingredients in a ziplock bag or bowl, then add sweet potatoes and marinade for at least 15 minutes.
Preheat grill to 450°F.
Remove sweet potatoes from the marinade, shaking off excess marinade, and place them on the grill. Cook until golden brown, about 3-4 minutes per side.