Grilled Shrimp and Pitas With Chickpea Puree
Thorsten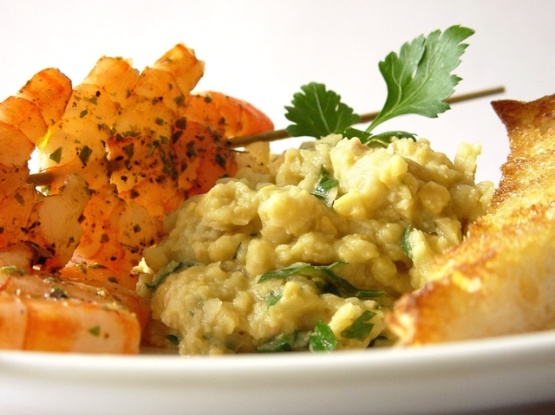 Canned chickpeas are delicious when mashed with garlic, lemon, olive oil, and parsley. Serve them with grilled shrimp and pitas for a quick Greek-inspired warm-weather dish from Quick From Scratch One-Dish Meals. Wine: The ingredients here practically demand the citrus and herb flavors of a sauvignon blanc. A version from California will be a bit softer than the classic French Sancerre or Pouilly-Fumé, but in this case avoid wines labeled Fumé Blanc. Though also made from sauvignon blanc, they tend to be more oaky.

Holy cow – something quick and easy, but so delicious. This was put together in seconds and gone too fast, but my taste buds were delighted. The combination of mashed chickpeas, shrimp and toasted bread is fantastic. Because I wanted it very quick, I didn't broil the shrimp, I seared them in a very little olive oil. They were ready in almost seconds. And the toast was ready in seconds too. If you don't have pita bread you could also use some other bread, but toast it with butter as described here or you can use olive oil here, too. If you are lazy (like me) toast the bread in the same pan after you has seared the shrimp. You will save all the flavours of the shrimp with this bread. This recipe is a keeper for a fast and tasty Greek styled dish. Great dish for summer with a dry white wine.
Light the grill or heat the broiler. Thread the shrimp onto four skewers. Brush the shrimp with 2 tablespoons of the oil; sprinkle with the oregano, 1/4 teaspoon of the salt, and the pepper.
In a medium saucepan, heat 5 tablespoons of the oil over moderately low heat. Add the garlic and cook, stirring, for 30 seconds. Add the chickpeas, water, and the remaining 3/4 teaspoon of salt and heat until warmed through. With a potato masher, mash the chickpeas. Stir in 1 tablespoon of the lemon juice and the parsley. Cover to keep warm.
Grill or broil the shrimp, turning once, until just done, about 4 minutes in all. Meanwhile, spread both sides of each pita with the butter and grill or broil, turning once, until golden, about 4 minutes in all. Cut into quarters.
In a small glass or stainless-steel bowl, whisk together the remaining 2 tablespoons each of oil and lemon juice. Mound the chickpeas on plates. Top with the shrimp skewers and surround with the pita quarters. Pour the lemon oil over the shrimp and chickpeas.