Grilled Pork Chop With Rosemary Teriyaki Butter Glaze, Fork Mash
Rita1652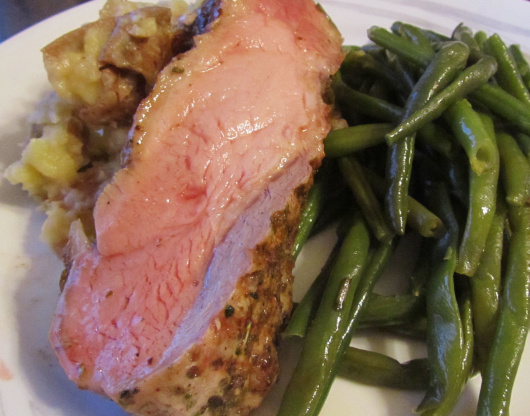 Chef Ivan Flowers created this recipe for Maui Maid Teriyaki. The teriyaki glaze makes the pork unbelievably juicy & tasty!

Very nice dinner! But there is something amiss in the directions. I added the bay leaf to the potato water since it wasn't stated what to do with it. After sauteing the potatoes in oil with the garlic (I used roasted garlic) I fork mashed them with the cream. (Cream) also not stated what to do with it in the directions! As your photo looks like you didn't fork mash the potatoes but the title and step #10 states fork mashed potatoes. Oh When I strained the potatoes from the water I removed the bay leaf, black peppercorns but kept the garlic in. YUM! I used frozen green beans that I defrosted and sauteed in the butter along with citrus zest. Skipped the cold plunge using two lemons. I did heavy season the pork, browned stove top on a grill pan then finished cooking in a 350 degree oven till 145 degrees. I did have a lot of the compound butter left over so I`m thinking the fat intake is much lower. Thanks for a Delish meal
Combine softened butter with chopped rosemary and 2 tablespoons teriyaki sauce in a bowl.
Roll in plastic wrap or paper till a 3 inch wide cylinder is formed and refrigerated for 1 hour.
In salted boiling water place green beans and cook for 6 minutes then plunge into ice water.
In salted boiling water place peppercorns, garlic cloves and potatoes and boil for 15 minutes.
Season pork chop to taste and grill medium heat 8 minutes on each side.
Take off grill, cut butter into ½ pieces and place two on top of pork chops.
Cover with foil and let rest for 5 minutes.
Heat olive oil over medium heat and place potatoes along with garlic puree in sauté pan.
Sauté for 5 minutes till garlic is browned and potatoes are coated, and then add chopped thyme. Season to taste.
Sauté green beans in a teaspoon of Teriyaki Butter till glazed and warm. Season to taste.
Serve glazed grilled pork chop with your garlic herb fork mashed potatoes along with your citrus scented al dente French green beans. ENJOY.