Grilled Oregano Chicken (Kotopoulo Riganato tes Skaras)
PaulaG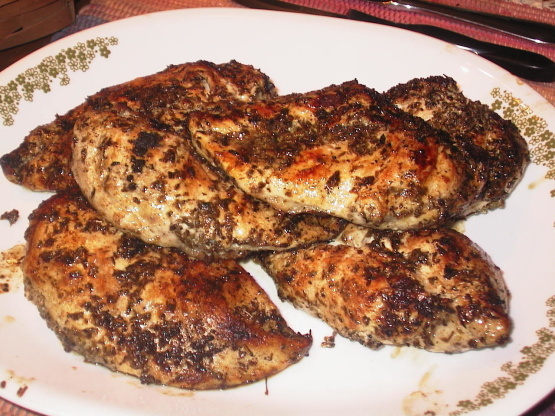 This recipe is simple & tasty. It can also be broiled. I clipped this from a women's magazine years ago - I have absolutely no idea which one, or I'd give credit. I would recommend buying the oregano at a health food store, they usually have spices that can be bought in bulk for much less than a grocery store. Otherwise, this would be quite expensive to make. Prep time does not include marinating.

This turned out perfect. Thanks for the easy but tasty recipe.
Rinse chicken, pat dry,& place in a large zip lock bag.
Combine remaining ingredients in a jar.
Cover& shake to mix.
Reserve some of marinade to brush onto chicken while grilling.
Pour remainder into bag& refrigerate overnight.
Cook 6 to 8 inches from hot coals, basting occasionally with the marinade until cooked through, approximately 20 to 25 minutes Or broil skin side down, for 30 minutes, then turn and broil 10 to 20 minutes longer, or until chicken tests done.