Nif_H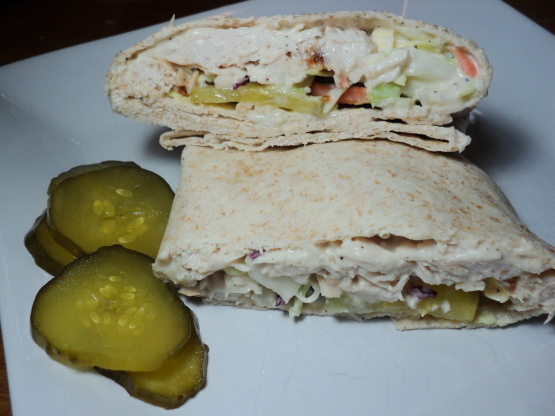 saw this one in a feed four for under $10 dollars.

My little girl thought these wraps were great. She loves pickles and was pleasantly surprised to see them in there. A nice, simple, tasty recipe.
Preheat grill to medium high heat.
Copmbine mayo, 2 tablespoons vinegar, 2 teaspoons black pepper, 1/8 teaspoon salt,and lemon juice in a small bowl, stirring well.
Combine 1 tablespoon vinegar, cabbage, and pickle juice in a medium bowl and toss.
Sprinkle chicken with 1/2 teaspoon black pepper, and 1/8 teaspoon salt.
Place chicken on a grill raack coated with cooking spray, and grill 6 minutes, on each side or until done.
Cool, and shred chicken.
Combine chicken and mayo mixture in medium bowl, and toss to coat.
Place 1 flatbread on each of 4 plates, and divide chicken mixture evenly among flatbreads.
Top each with 1/4 cup cabbage mixture, and 1 pickle, and roll up,.
Cut each wrap in half diagonally.