Grilled Lemon Chicken Wrap With Chilli Mayonnaise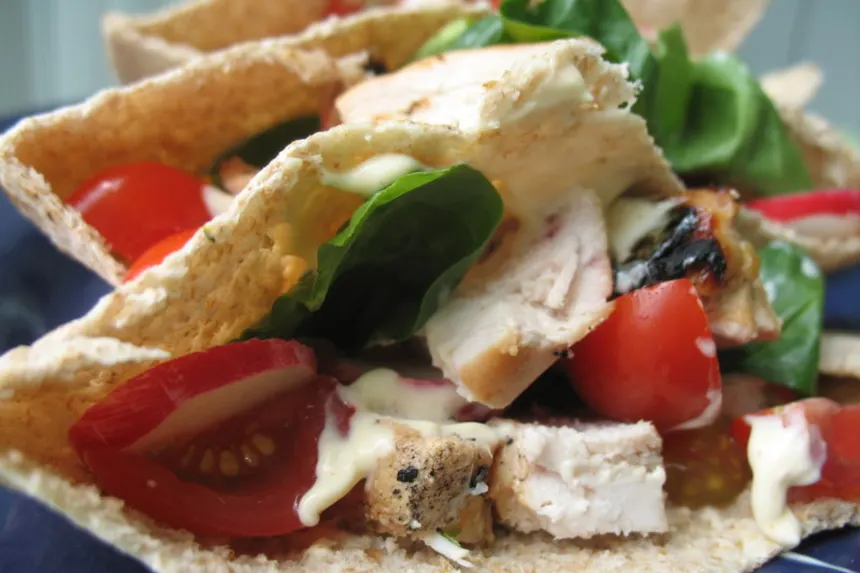 photo by Redsie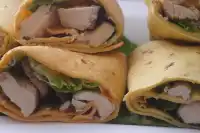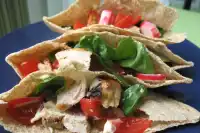 Ready In:

45mins

Ingredients:

16
directions
You will need flat metal skewers, or if using wooden skewers then soak them in water for atleast 20 minutes to stop them from burning.
Cut each breast lengthwise into 3 strips.
Combine garlic, cinnamon, allspice, pepper, oil, lemon juice and yoghurt in a bowl.
Add in the chicken strips and toss to coat evenly.
Cover and refrigerate for 30 minutes (you may marinate the chicken for upto 3 hours in advance).
Pre-heat indoor grill to medium-hot, or for outdoor grills, medium-hot coals.
Thread 2-3 chicken strips onto each skewer.
Grill turning every 2 minutes and basting with any remaining marinade until cooked through, for about 10 minutes.
Warm the breads through for about 30 seconds on each side.
To make the chilli mayonnaise, whisk chilli, coirander and lime juice into mayonnaise.
Split open and separate each warmed pita into 2 halves.
Slide the chicken pieces on each pita halves and top with lettuce, tomatoes and radishes and spoon over the chilli mayo.
Add salt and pepper, roll up and serve hot.
Questions & Replies

Got a question?
Share it with the community!
Reviews
It has been demanded that I bring this wrap to all future gatherings! LOL I made the chicken the night before and wrapped them up in sun dried basil or jalapeno tortilla's with the dressing and romaine lettuce. They stored well overnight and were great cold the next day. Super simple make ahead potluck lunch that will definitely be made again!!

 

Great recipe, a wonderful change of pace for those chicken breasts. Made for a great lunch. Loved the unusual to me spice combination. Used wraps because that was what I had on hand - I am sure it would be just as good using the pita bread. Redsie's photo is so appealing - it has me adding pitas to the grocery list for next time around - and there will be a next time for this great tasting chicken recipe. Thank you Aliyah&Aaron's mum.

 
RECIPE SUBMITTED BY
<p style=margin: 0.0px 0.0px 0.0px 0.0px; font: 12.0px Helvetica;><span style=font-family: Arial, Helvetica, sans-serif; font-size: 13px;><img src=file:///Users/aishayusaf/Library/Caches/TemporaryItems/moz-screenshot.png alt= /><img src=http://i166.photobucket.com/albums/u82/aaliyahsmum_album/bill3.jpg alt= width=402 height=507 /></span></p> <p><img src=http://i166.photobucket.com/albums/u82/aaliyahsmum_album/Untitled-11.jpg alt= /><br />Today, give a stranger one of your smiles. <br />It might be the only sunshine he sees all day. <br />- H. Jackson Brown, Jr. <img src=http://i166.photobucket.com/albums/u82/aaliyahsmum_album/images.jpg alt= /> <br /> <img src=http://i166.photobucket.com/albums/u82/aaliyahsmum_album/Untitled-11.jpg alt= /> <br /> <br />For a hobby, I'm into photography. I thoroughly enjoy baking, but have to admit, I have two left hands when it comes to decorating cakes! I also do a bit of knitting (beginner's stage) and reading. Stephen King and Dean Koontz are my all time favourite authors, and, of course, LOVE Calvin and Hobbes (does it show??!!) <br /> <br /> <img src=http://i166.photobucket.com/albums/u82/aaliyahsmum_album/chch-atheist.gif alt= /> <br /> <br /> <img src=http://i166.photobucket.com/albums/u82/aaliyahsmum_album/Untitled-1-1.jpg alt= /></p> <p>I search for recipes that carry ingredients I can get hold of locally (or I have stocked in my cupboard!). Recipes I have posted are ALL tried and tested and have been enjoyed by all! So, I hope you and your family will enjoy as well! <br /> <br />My rating system is fairly simple. Since I only pick recipes that I know my family will enjoy (looking at the list of ingredients), it's either 5 or 4 stars, I do not go any lower. I may sometimes do a bit of tweaking but that is only due to my family's tastes. If I do have problems with a recipe or if it didn't turn out the way it should have done, then I just leave a comment without any rating. <br /> <br /><img src=http://i166.photobucket.com/albums/u82/aaliyahsmum_album/Untitled-12.jpg alt= /></p>
View Full Profile