HisPixie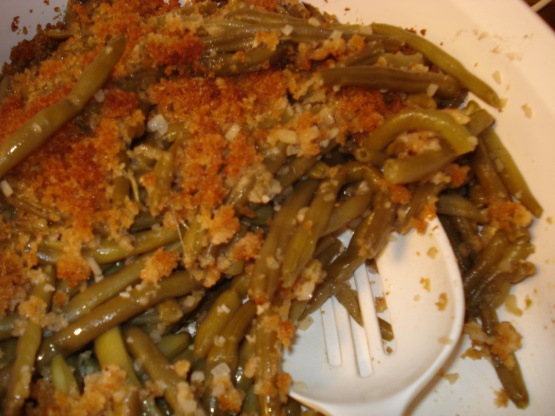 A tasty green bean casserole with a little bite.

These were excellent, Leta. Easy, peasy to prepare and easy, peasy to eat. Used canned French cut beans. Every thing else was to the T. Came out great, no leftovers! Thnx for posting, Leta, we will have these again.
If using fresh beans, prepare and cook beans, cut into 1 inch pieces, until crisp tender.
Plunge quickly into icewater to stop cooking.
Drain.
Heat oven to 350 F.
Toss beans with salad oil, vinegar, onion, salt, garlic and pepper.
Pour into ungreased 1 qt casserole.
Stir together the bread crumbs, cheese and butter; sprinkle over the beans.
Bake uncovered about 30 minutes, or until heated through.