mydishes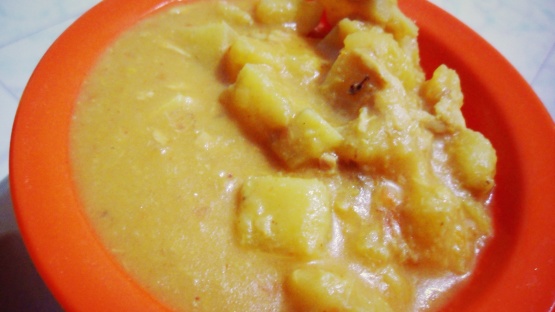 Very tasty and nutritious !!

I accidentally bought green bananas and was looking for a way to use them. When I saw this recipe I thought it looked okay but didn't have high expectations. I was pleasantly surprised at how tasty it turned out! It was relatively simple to prepare. The hardest part was peeling the bananas. If you like curries this should be a staple recipe. Two changes I made was a I added a Maharaja curry blend instead of the tumeric and during the last few minutes of cooking I added some green peas. Simply delicious!
Heat oil in a non stick heavy base skillet.
Add salt, red pepper powder and turmeric powder.
Immediately add bananas and saute for about 2-3 minutes.
Let bananas go brown on the edges.
Add puree and fresh lemon juice.
Add 1/2 cup water and cover tightly.
Bring to a boil and let it simmer on medium heat for 10 minutes.
Finally add the coconut milk, cover again for 5 minutes on low heat and serve warm with steamed rice or steamed noodles.