Well, sorta. Took a recipe and embellished it. The lamb meat can be omitted if you wish. Inspired by a recipe in Betty Crocker's Meatless Main Dishes. If you want to spice it up further, garnish with fresh minced hot peppers! A good way to use up leftover refried beans!
1 (15 ounce) can refried black beans
1⁄2 lb cooked ground lamb (optional)
1 1⁄2 teaspoons ground cumin
1⁄2 teaspoon Greek oregano
1⁄2 teaspoon chili powder
1⁄4 teaspoon salt-free garlic powder
1⁄8 teaspoon allspice
1⁄4 teaspoon cinnamon
4 whole wheat pita bread, warmed or 4 arabic bread
1⁄2 cup red bell pepper, diced
1 medium tomatoes, diced
3 tablespoons green onions, sliced thinly or 3 tablespoons red onions, diced small
1⁄2 cup mizithra cheese, grated (feta cheese or white cheddar cheese can be subbed)
1 cup shredded romaine lettuce or 1 cup fresh Baby Spinach, chopped
1⁄4 cup cilantro, chopped

Toppings

sour cream (plain) or Greek yogurt (plain yogurt)
minced fresh chili pepper (serrano, habanero, jalapeno, etc.)
Directions
Preheat oven to BROIL.
In a bowl, combine the cumin, oregano, chili powder, garlic powder, allspice and cinnamon with the refried beans.
Divide and spread the bean mixture on pita bread. Add the cooked lamb, if using.
Top with the bell pepper, diced tomato, green onion and cheese (use a combination of mizithra and cheddar if you want).
Broil for approximately 2-3 minutes, watching oven *carefully*.
Remove from oven and top with the lettuce and cilantro. Garnish with the salsa verde, sour cream and minced chili pepper, too!
Note: Yield is for tostadas without the optional meat. Half pound indicated in recipe is pre-cooked.
Reviews
Most Helpful
Fun tostada. This was overloaded with goodies. I used some shredded leftover lamb shank, Greek pita bread, mizithra cheese (with a little cheddar) and Greek yogurt. It was hard to eat because it kept falling apart, but that may be because I loaded it up. lol. Thanks for sharing Cookgirl. Made for ZWT9.

Inventive and delicious recipe! All of the flavors complement eachother very nicely. My son couldn't get enough. Thank you for posting a winner! ~Made for Zee Zesties on the ZWT6~ I forgot to mention. Instead of serving the baby spinach on top of the tostada, I served it on the side as a salad. Yummy! :)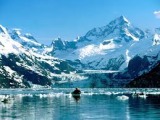 A new favourite at our place. The kids gobbled these tostadas up. I left out the refried beans and just went with the lamb, which was well-seasoned. I used the suggested combo of mizithra and cheddar for the cheese topping - cheddar has better 'melty' qualities, and my kids love it. Dolloped daintily with Greek yoghurt and sprinkled a little more oregano over. Delicious!