Greek Cucumber Summer Salad
Nif_H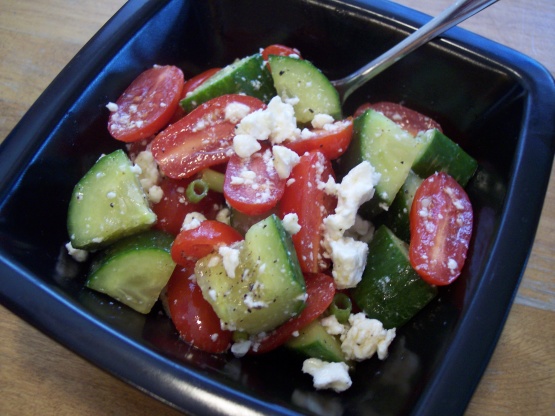 This is the perfect blend of fresh summer vegetables, with yummy feta cheese, and a great and simple dressing. Adapted from BH&G magazine. Submitted by CKeeter.

Sharon, this is a very good plain greek salad! It is refreshing and very tasty! The cucumber, tomatoes and feta go great together and the pepper and oil are the perfect light dressing for them!
I made quite a large quantity of this so that I could try using part of it in a pasta salad with additional herbs and some sun-dried tomatoes and pesto sauce. Great!
THANK YOU SO MUCH for sharing this recipe with us!
Made and reviewed for my chosen chef during Veggie Swap #25 August 2010.
Chop the cucumbers into 1 inch cubes. Place in a medium size bowl and sprinkle with salt. Let sit 15 minutes to release water.
Drain excess water and stir in cherry tomatoes, onions and cheese.
In a small bowl, whisk olive oil and lemon juice. Pour over cucumber mixture.
Add black pepper and stir gently. Chill until serving.
This light salad tastes especially delicious when prepared with fresh summer cucumbers and tomatoes from the garden!