Grecian Shrimp over Pasta
PaulaG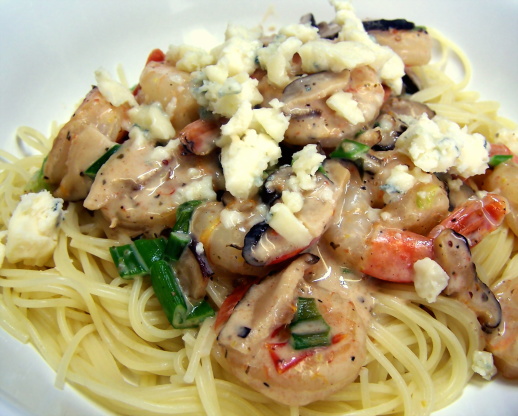 I love shrimp and am always on the lookout for new ways to prepare it. If you need a recipe for the white sauce, I suggest using White Sauce (Cheesy or Not) Medium Sauce as it's the exact recipe that I use in making white sauce. I suggest serving this with a Greek salad and bread.

Excellent recipe. I doubled it as my BF likes to eat a lot and then try to take leftovers and I wanted to make sure there were leftovers for me for lunch tomorrow!! I always look forward to leftovers at work and this is no exception, I can't wait to eat it again. I will definitely be adding this to my list of go to recipes when I want to impress someone, or even treat myself!
Saute mushrooms in a small amount of olive oil for 30 seconds.
Add the shrimp, tomatoes and seasonings.
Heat through until shrimp are done and turn pink.
Add the white sauce and green onion tops.
Pour over a bed of pasta and crumble feta cheese on top.