Great White Chili (supposed to Be by Willie Nelson)
GaylaJ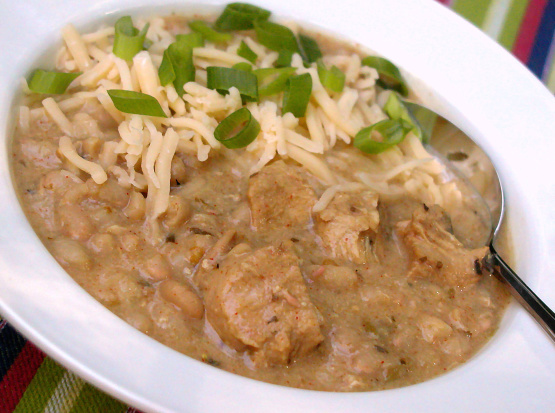 I am not sure of its orgins, but I am trying to find the source.

We loved this! Had it last night with a corn pudding recipe off this site. I did sub one can of beef broth and beef bouillon rather than just chicken to get more depth of flavor for my beef eating husband. Cooked my chicken in a little oil and sprinkled with taco seasoning, then sauteed the onion and garlic in the same pan. Had no green chilies, so I had to use a can of Rotel tomatoes, and I think it turned out great! Was a little leary of adding so much cheese and sour cream, but very happy with the results. Will definitely make again. Thanks for sharing the recipe. This is the first chili I've ever made starting with dried beans rather than canned, and it won't be the last... Thanks so much for the recipe!
Put the chicken stock base, broth, and beans in a large pot (I like my Crock Pot).
Simmer it for two hours, covered.
Saute the onions in the oil until they are gently browned.
Combine the onions with the spices, chicken, and other vegetables, and simmer for another hour or so.
Add the cheese and sour cream, cooking until the cheese melts in the chili.
You might want to serve the chili with more sour cream, green onions, diced tomatoes, salsa, cilantro, or cheese.
The recipe serves about four people, but I always double it, because it tastes even better the second day.
If you don't use fresh cilantro, you might want to double the amount you use.
Also, I have found the garlic to be low, but you can tell by my name that I love to cook with garlic.
It was also great to substitute some of the chicken broth with beer (preferably Mexican), if you add a few shots of tequila for added ummph!