diner524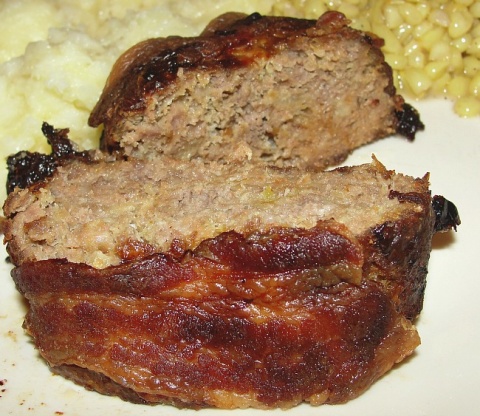 This is the recipe my grandmother used to make her meatloaf. Most notably it doesn't have any sort of sauce coating the top as is called for in many meatloaf recipes. My family enjoys it this way but I'm relatively certain that any standard meatloaf sauce would do if you want one.
Wonderful meatloaf and total comfort food!!! This is very similar to my family's recipe, except our ketchup goes on top, only one egg (but mixed with milk) and we don't add the mustard. I made this as written, although did cut back slightly on the mustard, didn't want it too tangy, and will probably try the full amount next time. The only other change was to cut up a piece of bacon and I put the slices on the top, so it didn't get to crispy. I do like a nice crisp bottom but like a nice moist inside, so I didn't add the water to the pan. Thanks for sharing your recipe. Made for Spring 2013 Pick A Chef event.
1

lb ground beef

2

eggs
salt (to taste)
pepper (to taste)

1

onion, chopped (Optional, I usually omit it or use a teaspoon of dried minced onion. You also don't need the whole o)

2 -3

tablespoons ketchup, heaping

1

tablespoon yellow mustard, heaping

1

cup saltine crumbs, crushed. (This is usually most of one sleeve of saltines.)
Mix all together; I generally use my hands.
Form mixture into a loaf shape.
Put in a baking dish (I use a pie plate).
Bake at 350 for 1 hour.
NOTE: I always put a little water in my pan. I've never done it any other way, so I don't know what would result if you don't.