Parsley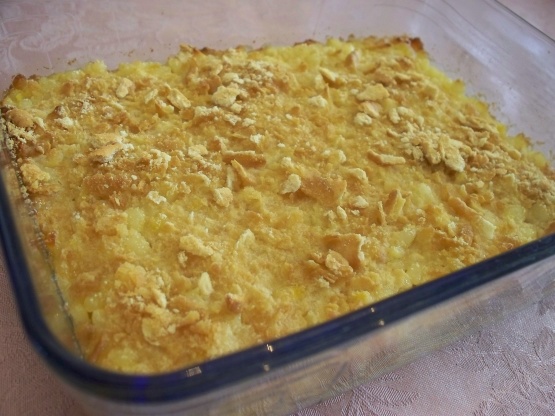 Holidays or family gatherings are never the same without grandma's baked corn. She is gone now, so I treasure this recipe. Prep time is apporoximate. I'm not sure of the servings. We were a family of 6, but no matter how much she made, we never had any left over.

Top Review by keen5
I just wanted to mention that if you want this dish to be thicker in height, use a smaller pyrex dish. When my gram first started making this, that's what she did. When she gave me this recipe, she was getting a little senile and I think she may have forgotten to mention that she started doubling the recipe and using this larger pyrex dish. However, it tastes good without doubling it too. I do like mine a little "higher" though. It's your choice.
1 1⁄2 quarts frozen fresh corn, thawed

2

large eggs, slightly beaten

3

tablespoons flour
1 1⁄2 cups milk
1⁄2 cup sugar
1 1⁄2 teaspoons salt

2

tablespoons butter
crushed cracker, for the top (I use Ritz or saltine)
Mix together all ingredients except crackers and pour into a Pyrex, or other glass baking dish.
Sprinkle with crushed cracker crumbs.
Bake at 350 for 1 hour or until firm.
Do not over cook or it will be dry.