Grandfather's Favorite Coffee Cake
2Bleu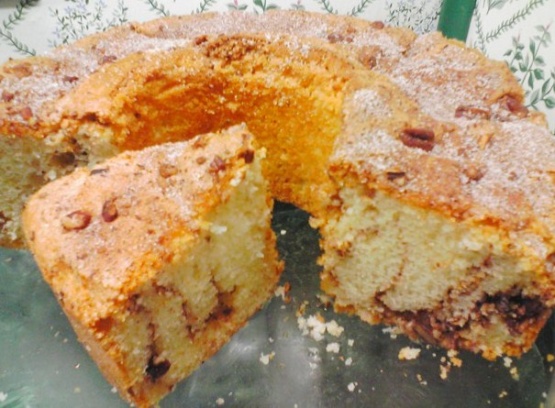 This cake is incredibly good and you would never know it uses a boxed cake mix. I'll never forget the smile on my grandfather's face when he presented me with a piece of my grandmother's new found recipe (15 yrs. ago!). I now enjoy watching family and friends reaction as they take a bite! EDIT: Please do not use a food processor for this recipe- The reviews do not come out as favorably as when the recipe is made as written. (I'm not sure of the original source of this recipe, I just know that my grandmother has an eye for picking out good recipes!)
Mix together sugar, cocoa, nuts, and cinnamon. Set aside.
Mix together cake mix, vanilla pudding, eggs, oil, and sour cream. Beat full speed with mixer for 2 minute.
Pour into a greased tube pan alternately with dry mix, ending with dry mix on top.
Bake at 350 degrees for 65 minutes.
Note: Do not put dry mixture too close to the edge of pan, as it will make it difficult to cut.