Golden Crunchy Pickled Onions
Feisty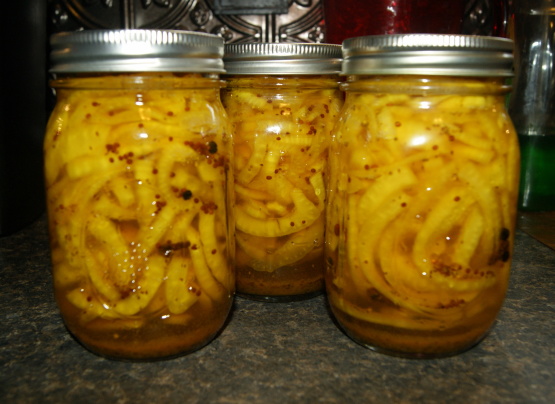 From yahoo group. Description states: "You should allow two weeks after preparing these before eating. They'll be tasty right away, but they'll be sublime if you exercise two weeks' worth of patience!"

Top Review by Feisty
If you haven't made these yet...what are you waiting for? These are outstanding! We love them on sandwiches, or sprinkled over a salad. Really great in a panini, too, since they keep their crunch and it adds some additional texture to your sandwich. They are a little sweet, a little sour, a little spicy from the cinnamon and tumeric, with the great onion flavor remaining at the base. They are beautiful in the jar, and make great gifts. I buy a box of onions at our local produce stand every year to make these, as people often request them. One of my favorite condiment recipes.
To each prepared pint jar add 6 cloves, 6 peppercorns, 1 tsp mustard seed and 1/2 tsp celery seed. Set aside.
Peel and slice the onions into 1/4″ thick rings. Separate the onion rings carefully and divide among the jars.
In a large nonreactive saucepan, stir together the vinegar, water, sugar, salt, turmeric and cinnamon over high heat. Heat the syrup to boiling and then allow it to simmer for 2 minutes.
Pour the hot liquid over the onion rings being sure to leave 1/4″ of headspace. Use a chopstick or skewer to remove air pockets that might be in the jars by running it along the inside wall of the jar. If needed, add more hot syrup to maintain the 1/4″ headspace.
Process jars in a boiling water bath for 10 minutes. Adjust time according to your altitude.