BarbryT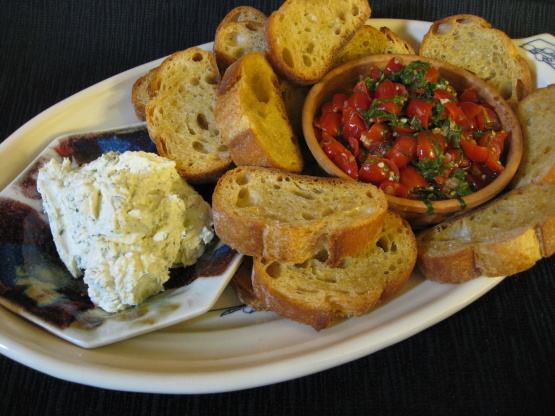 Oh my gosh this is a wonderful appetizer! My girlfriend served it at a party and I would not leave without the recipe! Serve it with a homemade brushetta mix or one you purchase ready made -- YUM!

Top Review by KPD123
this was really good. i made this for dd's spaghetti dinner bday party. i made this along with bruschetta and crostini. as another reviewer said...the lemon peel makes this special and gives a burst of flavor. i used a whipped cream cheese with chives and roasted garlic and herb flavored goat cheese. i also added lots of cracked black pepper. it was really nice because i was able to make everything up ahead of time and it was a cinch with the food processor. served it all together on the same platter just like the photo! thanks for sharing!! nice and easy appy!
Preheat oven to 375 degrees F.
Arrange the bread slices on a large baking sheet.
Brush olive oil over the bread slices.
Bake until pale golden and crisp, about 15 minutes.
Blend goat cheese and cream cheese in a food processor until smooth and creamy.
Add parsley, thyme and lemon peel; pulsing to blend.
Season with salt and pepper to taste.
Place in a serving dish along side the toast and brushetta mix.
Have guests spread cheese mixture on the toast and top with brushetta.
Awesome flavor - Enjoy!